The annual Philadelphia Marathon took place on Saturday, November 19. I live with three other friends in a hall group—that is, we occupy four comfortable rooms next to one another. My wonderful hall-mate Carissa, who is also my hell mom, had been training for weeks and weeks . . . and weeks. I have never been the athletic type, but I admire anyone who has the devotion and drive and patience to run. I was simply in awe of Carissa's endurance in running a half marathon. (Plus, besides training for the marathon, she bikes from Bryn Mawr to her UPenn classes in Philly!)
The night before, my other hall-mate, A., and I made a set of signs for the big day. Although neither of us takes art classes, we were able to use the colorful array of markers in Arnecliffe, the art studio on campus. A nice touch are Arnecliffe's little golden Christmas lights strung around the windows and hanging from the ceiling in uneven waterfalls. We carefully colored in the letters (how peaceful it was to be coloring again) and then outlined them in glitter glue. Imagine our glee when the announcer, who was standing on a platform directly across from where we were manically waving the signs, read the three signs out loud —"RUN CARISSA, RUN!" We screamed. The marathon ended near the steps of the Philadelphia Museum of Art.
Carissa triumphantly finished the race shortly after 9:30. As our party of seven caught sight of her, we cheered ecstatically, marveling at the ease with which she completed her race. Among the others panting and gasping for breath, Carissa practically skipped across the finish line—she even posed for the camera! Her hair and smile glowed in the 70-degree sunlight.
We celebrated her victory at the Continental, a bright-red corner diner on Chestnut Street. A large cocktail olive hangs over the door (it can be spotted from a street away). The festive interior with turquoise seats is reminiscent of a typical American diner. But typical it is not. The restaurant has a second-floor balcony that wraps around the outer edges —wicker swinging chairs hang from the second-floor ceiling, and colorful glass spheres spill from the ceiling to the first floor.
The menu features everything from the standard eggs Benedict to udon noodle soup with wontons. V. ordered a particularly tasty "Crunchy Brioche French Toast–apple compote with a mulled cider reduction." A. ordered a scrumptious quinoa salad, and M. enjoyed the udon noodle soup. My asparagus and goat cheese omelet was delicious, tender, creamy, and flavorful. Variety doesn't always work in a restaurant. Here it does.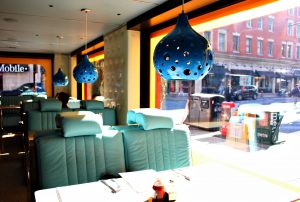 The Continental is in the busiest section of Chestnut Street—a couple of streets above Rittenhouse Square.