Twice a year, once in the fall and again in the spring, the Bryn Mawr student body gathers in Goodhart Hall for Plenary, where together we make and pass resolutions. Anyone can make a resolution, and in the weeks leading up to Plenary, the resolutions are presented before the Self Government Association. Each resolution must be accepted by one-sixth of the student body for it to be presented at Plenary. The student vote at Plenary will ultimately determine whether a resolution will pass.
In the days leading up to Plenary, I interviewed some community members — thank you all for your willingness to share your opinions!
Mayisha '21: "I've been getting a lot of emails so I hear it's pretty important…. I want to see what it's all about. I'm going for Alisha — when I first got in, I used to ask the admissions office a lot of questions, and she was the one who answered all of them, and the first student at Bryn Mawr who I talked to. I really respect her that way. I haven't seen her in action, so I want to see her."
Madison '18: "I've gone every year since I got here because it's amazing! And it's fun to sit there in the huge auditorium and see all the resolutions that people have come up with, [and] how much work they've been putting in to them. Also to see what the campus needs….You don't get to see what everyone thinks about and what they need on a daily basis until everyone has congregated and is talking about it. Also they table at plenary too and I love the tabling, I like seeing all the Bryn Mawr crafts, and the cupcakes, the cupcakes are really good…. they're amazing!"
Lauren '19: "The fencing club has a booth, and since I'm the fundraiser, I'm helping  set that up and volunteering at our booth….That way when we sell our sports bras we can get money for tournaments and equipment. It's troubling trying to get to quorum* and it takes a while but we eventually get there!"
*For Plenary to commence, there must be at least one-third of the student body in attendance, quorum. This year 446 students were needed to represent the BMC community; however, more than 500 students arrived.
Maren '19: "I feel like it's important that we have a baseline of people who are feeling positively towards whatever is going to happen [in the community]. Even if i'm not going to be the one who's making the resolutions or commenting, I want to be there to be one of the populace who is interested."
Veda '18: "Yes. It's my duty as a student of this school because that's where we make resolutions for things that are important for this school— that's where we affirm that we want to have a student government. So if we don't go we don't get the benefits of having a student government. Even if the resolutions we make aren't necessarily put into practice immediately, it's still good to put your vote out there."
Plenary Snapshots
The long line of students which began at the Goodhart doors wound around Rockefeller arch and far down the walkway.
Everyone was presented with a lei as they walked through the doors of Goodhart because the theme was Lilo and Stitch. Goodhart's lobby was filled with booths of student organization, team, and club fundraisers; handcrafted wallets and bracelets from the fencing team, Bryn Mawr-themed postcards, and intricately decorated cupcakes with volleyballs on them.
Several performances by a cappella groups and dance groups kicked off the night: the Night Owls, Maiyuri, The Extreme Keys, and Pulso Latino.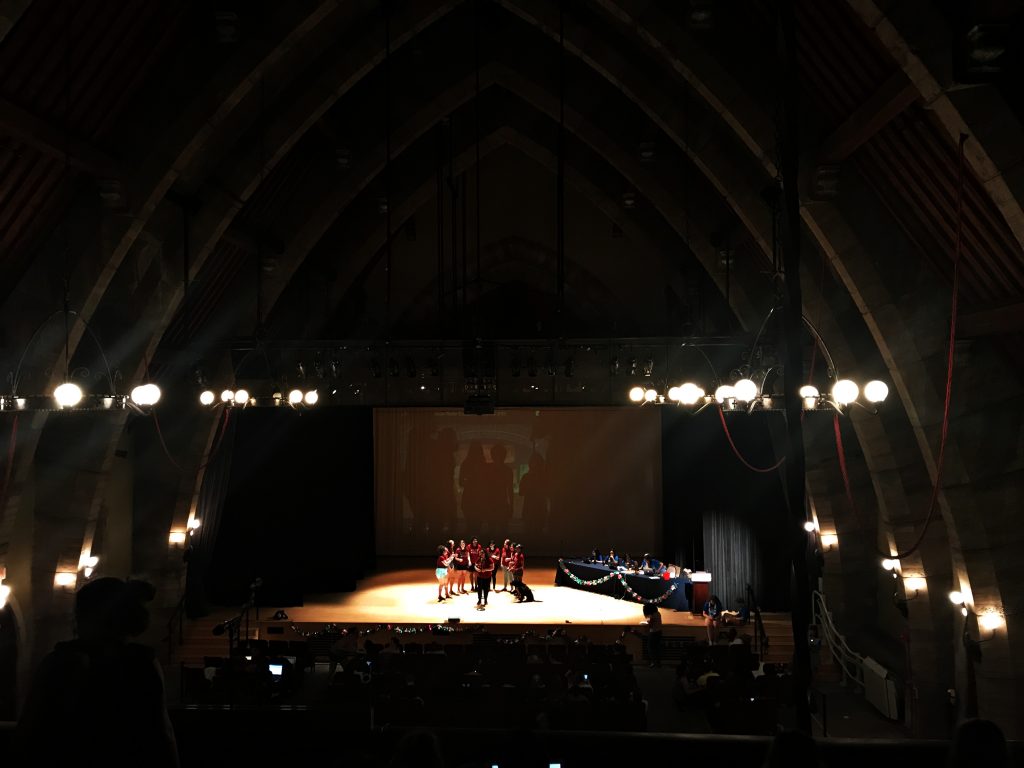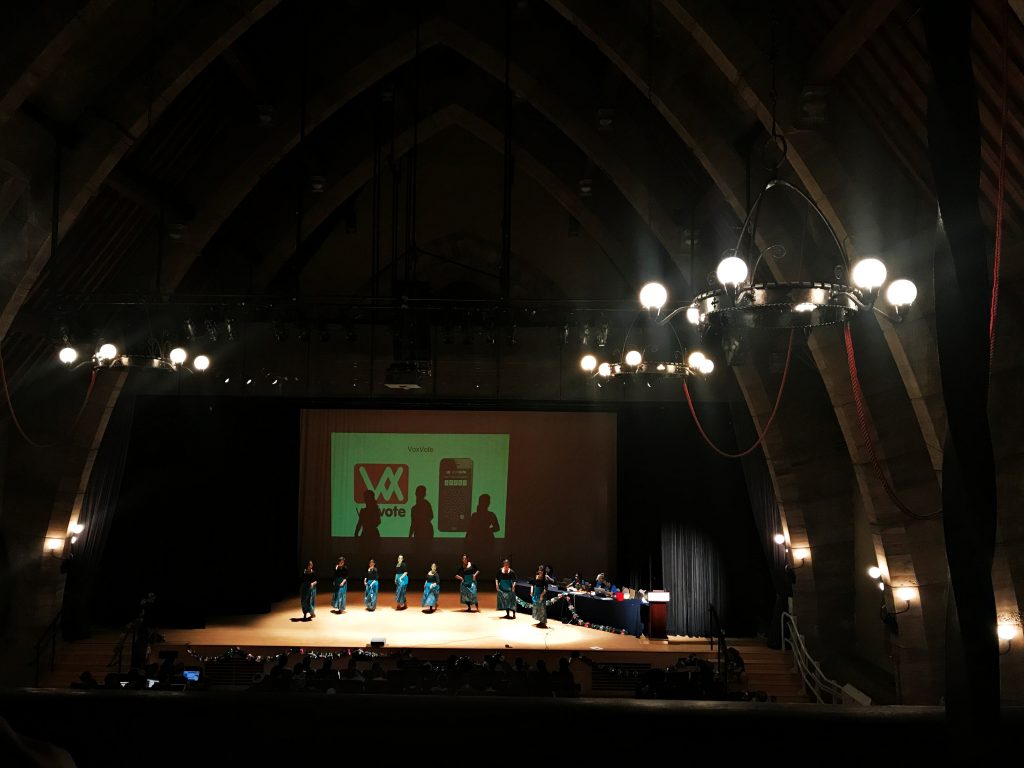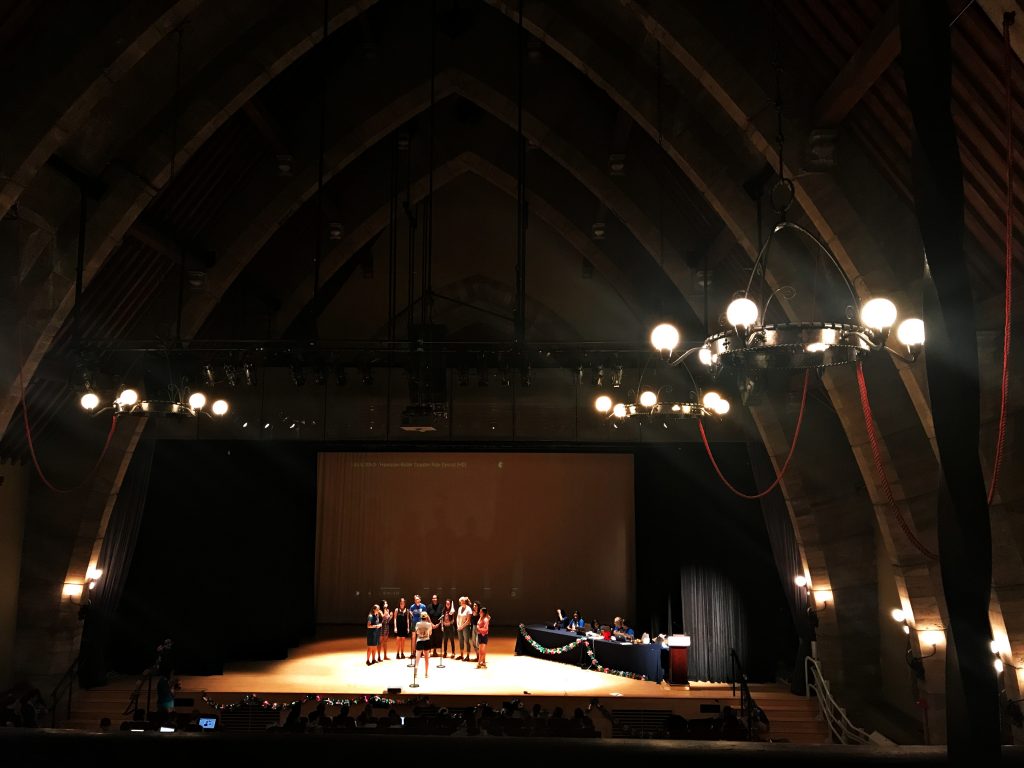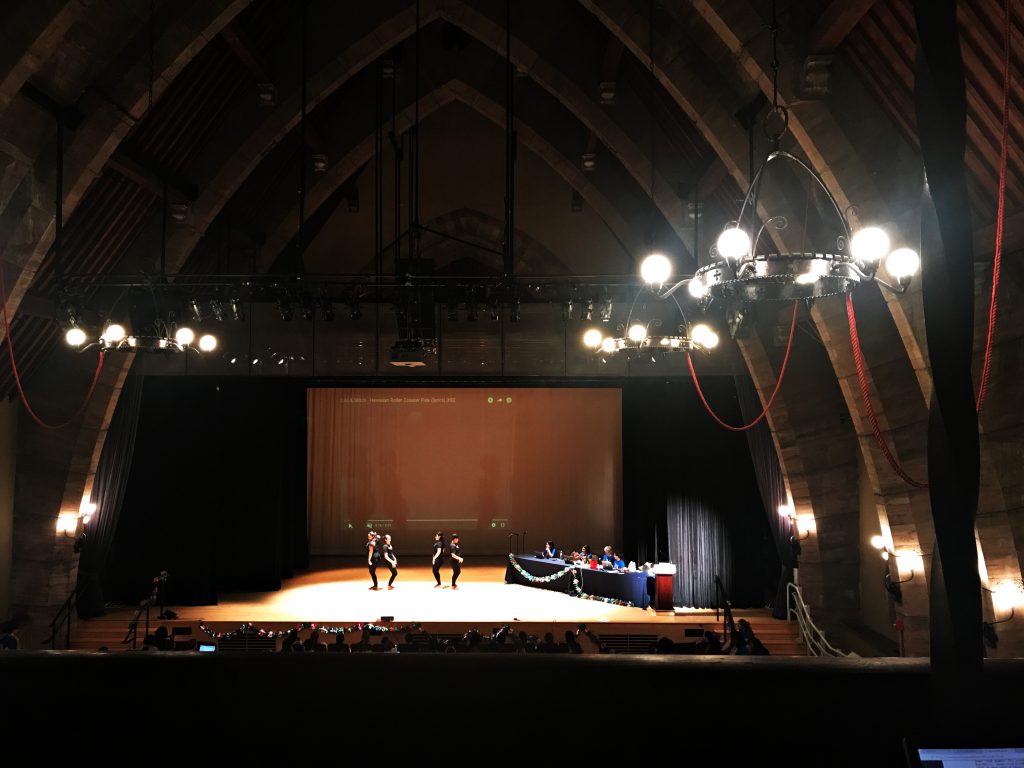 This year, an app was used to organize the voting process (and to provide anonymity). Resolutions ranged from Rewording the Mission of the Bryn Mawr Self Government Constitution and Restructuring the Self Government Meeting and Voting Procedure to Adding Emotional Support Animals in the Counseling Center.
Plenary is one of our largest student gatherings and it is important to us as we, the students of Bryn Mawr have the power to create and vote on resolutions for the improvement of our community. After each resolution is presented, anyone has the opportunity to stand before the presenter and student body, and to question or support the proposal. The Self Government heads conducted Plenary with grace, respect, and efficiency before a theater of more than 500 students. Plenary is important to us because it reaffirms our mission as students of Bryn Mawr. We find ways to improve our school through thoughtful discussion and decision, in a fully student-run, student-attended endeavor.