Philadelphia has many secrets hidden in the open. Naturally, tourists always rush for the Independence Mall sights. However, once you have checked the Liberty Bell off your to-do list, the possibilities are endless.
A skeleton of the Industrial Revolution, the Reading Viaduct stretches across 10 blocks from North Philly neighborhoods to Center City. In its days of glory, it carried both freight and passengers. The most powerful locomotive in the US of the 1890s sped along it at 25 miles per hour and carried forty times its own weight. Now the viaduct is a ruin, abandoned and overgrown. An air of mystery and melancholy surrounds it.
My friend and I scrambled up the embankment and began to walk along the viaduct. Admittedly, two chainlink fences would bar the way, but holes have been cut into them wide enough for a person to fit through. A narrow dirt path winds along the tracks on the other side of the fence. Clearly there are some visitors. I will note, the sign says "no loitering," not "no trespassing."
The Reading Viaduct is a photographer's dream (reportedly it is a popular place to stage wedding photoshoots). With finesse and dedication, my friend lugged his camera around the entire viaduct. As a result, some splendid photos follow.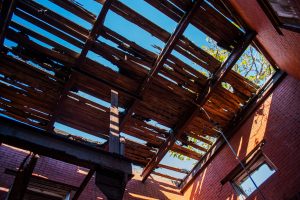 The viaduct is quiet, secluded, and above the sounds of the city. Fields of tall golden grasses grow along the rusted train tracks. Two abandoned buildings that once served for unloading freight are plastered in vibrant graffiti; shafts of light stream through their wooden ceilings, and the old iron pulleys creak and sway back and forth in the breeze.
If you are interested in exploring the Reading Viaduct, do not hesitate, as its days are numbered. Soon it will become the Rail Park. As I understand it, the Rail Park will be similar to the New York City's High Line, an accessible urban green space where people can stroll with friends, walk their dogs, enjoy the breeze, and look out over their city with pride. Although some of the viaduct's scruffy character may be lost, its spirit will still be there. Still, once construction begins, it will never be the same.
Therefore, if your curiosity lies in the untamed grasses and ruins, go now. From Dilworth Park, walk north along Broad Street until you reach Noble Street on your right (this is about a 15-minute walk). After turning right on Noble Street, you should be able to see the beginning of the viaduct. Enjoy!
http://www.therailpark.org/